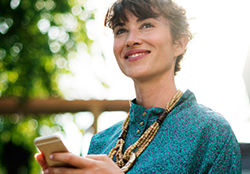 OK then !!
I Just wanted to say that you have a profound impact in my life !!
I wouldn't have done anything for my recovery without you
When I came to your office for the first time I was depressed, constantly feeling
run-down cause my last 3 years attempt to change my eating and physical activity
habits didn't work mostly in my mind which led me to just eat again junk food and finally
end up with medical issues once more.
I was helpless , hopeless , and stuck in a cycle of binging.
But this was until i made the first appointment with you that i was truly able to break free
of this atrocious cycle..
You have a magical way to interwine the science of food ,the reality and nutritional aspects
of eating , and my emotional rollecoaster !!
You help me deal with food and re-learn how to eat ,you support me and empower me to be strong
I can honestly say I would be in a very painful place right  now if i hadn't met you and I am so thankful
to have you in my life helping me through this challenge.
Your Intelligence ,strenght, and incredible ablity to change people's lives cannot be ignored
Thank You for being here for Me
Happy Easter !!